My Blog
Posts for: February, 2016
By Tiffany Bolen D.M.D.
February 20, 2016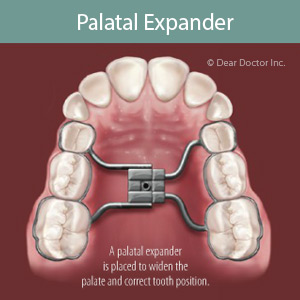 People mainly identify orthodontics with braces. But while they're a major part of it, braces aren't the only way this important dental specialty can make a difference in a person's bite.
For example, orthodontics can help guide the development of a younger patient's facial structure that could head off future upper teeth misalignment. The area of focus is the upper jaw and palate (the roof of the mouth) that jointly make up a structure called the maxilla. The maxilla is actually formed by two bones fused together in the center of the palate along what is known as the midline suture running from front to back in the mouth.
The two bones remain separated until puberty, which helps accommodate rapid structural growth during childhood. But problems can arise if the upper jaw is too narrow, causing a "cross-bite" where the lower back teeth bite abnormally outside the upper ones. This can crowd upper permanent teeth and cause them to erupt improperly.
Using a technique called palatal expansion we can correct this abnormality if we act before the maxillary bones fuse. The technique employs a custom-made appliance called a palatal expander that attaches to the posterior teeth of the upper arch. Expanders have two halves joined by a small screw device to increase tension against the teeth to widen the jaw. A parent or the patient (if old enough) increases the tension by using a special key to turn the adjustment screw a tiny amount each day. This may cause minor discomfort that normally eases in a few minutes.
The patient wears the device until the jaw expands to the desired width and then allows the bones to stabilize in the new position. This can sometimes create a small gap between the upper front teeth, but it often closes on its own or it may require braces to close it.
While palatal expanders are not for every case, they can help normalize development and improve the bite, and thus preclude more extensive orthodontic treatment later. But time is of the essence: after the maxilla has fused, surgery will be necessary to separate them and widen the palate. It's important then not to delay if your child could benefit from this effective treatment.
If you would like more information on palatal expanders and other orthodontic treatments, please contact us or schedule an appointment for a consultation. You can also learn more about this topic by reading the Dear Doctor magazine article "Palatal Expanders."
By Tiffany Bolen D.M.D.
February 05, 2016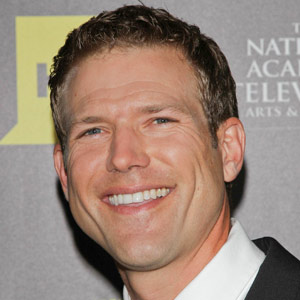 Are bleeding gums something you should be concerned about? Dear Doctor magazine recently posed that question to Dr. Travis Stork, an emergency room physician and host of the syndicated TV show The Doctors. He answered with two questions of his own: "If you started bleeding from your eyeball, would you seek medical attention?" Needless to say, most everyone would. "So," he asked, "why is it that when we bleed all the time when we floss that we think it's no big deal?" As it turns out, that's an excellent question — and one that's often misunderstood.
First of all, let's clarify what we mean by "bleeding all the time." As many as 90 percent of people occasionally experience bleeding gums when they clean their teeth — particularly if they don't do it often, or are just starting a flossing routine. But if your gums bleed regularly when you brush or floss, it almost certainly means there's a problem. Many think bleeding gums is a sign they are brushing too hard; this is possible, but unlikely. It's much more probable that irritated and bleeding gums are a sign of periodontal (gum) disease.
How common is this malady? According to the U.S. Centers for Disease Control, nearly half of all  Americans over age 30 have mild, moderate or severe gum disease — and that number increases to 70.1 percent for those over 65! Periodontal disease can occur when a bacteria-rich biofilm in the mouth (also called plaque) is allowed to build up on tooth and gum surfaces. Plaque causes the gums to become inflamed, as the immune system responds to the bacteria. Eventually, this can cause gum tissue to pull away from the teeth, forming bacteria-filled "pockets" under the gum surface. If left untreated, it can lead to more serious infection, and even tooth loss.
What should you do if your gums bleed regularly when brushing or flossing? The first step is to come in for a thorough examination. In combination with a regular oral exam (and possibly x-rays or other diagnostic tests), a simple (and painless) instrument called a periodontal probe can be used to determine how far any periodontal disease may have progressed. Armed with this information, we can determine the most effective way to fight the battle against gum disease.
Above all, don't wait too long to come in for an exam! As Dr. Stork notes, bleeding gums are "a sign that things aren't quite right." Â If you would like more information about bleeding gums, please contact us or schedule an appointment. You can read more in the Dear Doctor magazine article "Bleeding Gums." You can read the entire interview with Dr. Travis Stork in Dear Doctor magazine.